Super Raffle 2022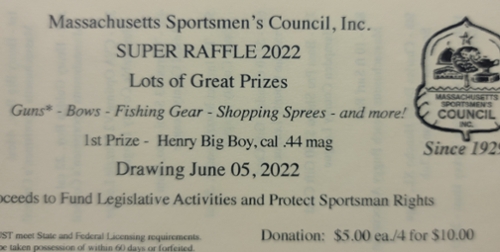 The tickets for the MSC Super Raffle 2022 are now availale. The prizes are ...
1st - Henry Big Boy, .44cal
Massachusetts Sportsmen's Council
2nd - Henry Golden Boy, .22 cal
Massachusetts Sportsmen's Council
3rd - CVA Optima V2 Muzzle Loader
Barnstable County League
4th – Taurus G3 Semi-auto, 9mm
Bristol County League
5th – TC Impact Muzzleloader, .50cal
Essex County League
6th -$150 Cabela's Gift Card
Franklin County League
7th -- Bass Pro Shops $200 Gift Card
Hampden County League
8th - 10 ft Surf Rod
Massachusetts Beach Buggy Association
9th – Charles Daley Honcho XL, 12ga
Somerset Sportsman's Club
10th– Two Day Spring Turkey Hunt - 2023
MA Chapter NWTF
Proceeds used to defend and enhance sportsmen's rights through legislation and regulation. The Drawing is June 5, 2022.
Posted: to Mass Sportsmen's News on Tue, Jan 25, 2022
Updated: Tue, Jan 25, 2022