Jack Coughlin remembered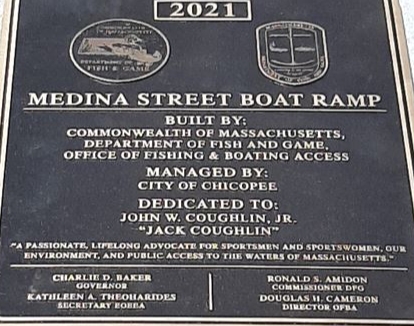 A longtime anti-litter advocate, both of whom died tragically earlier this year, were memorialized in a dedication ceremony at a Chicopee boat ramp Friday. The ceremony at the Medina Street Boat Ramp honored Jack Coughlin. Jack was an Associate Member of the Council and a long time volunteer at the sportsmen show held at the Big E in February.
Jack was struck by a suv in his hometown of Agawam in January 2021. The accident left him paralyzed, and he died months later.
The Medina Street Boat Ramp was among the places that Coughlin had worked to clear of litter and debris, so that it could be a more enjoyable space for the community. Many agreed the renovation of the boat launch would never have happened without the tireless work of Jack Coughlin.
Not only will generations to come remember Jack's legacy but state and local officials say because of the Medina Street Boat ramp, others will be better protected on the water and the entire community can enjoy nature and all it has to offer. The medina street boat launch has now re-opened and can be used by the public.
Posted: to Mass Sportsmen's News on Sun, Sep 26, 2021
Updated: Sun, Sep 26, 2021